SSR International SUPER Rally 2019 - October 13 – 17/2019

:yellow::ssr:black:
urple::blur::blue::silver:
Please view Posts #3 and #4 for further information and daily events Monday through Thursday
Sunday October 13
- Registration and Meet and Greet
Wednesday October 16
Banquet/Awards night - final day of Rally
Raffle Draw at Banquet for 2005 Ricochet Silver SSR
Mikey's Squeeze Debbie Moro is looking after raffle ticket sales - Thank you Debbie!
This is an excerpt from Debbie's thread,
link attached below

Thursday October 17
- Check out unless extending your vacation
The Branson Rally will be raffling a very nice 2005 Ricochet Silver SSR, VIN 1GCES14H55B121138 (build date May 20, 2005) as a part of the festivities.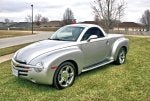 The SSR is Ricochet Silver in color, automatic transmission, SSR equipment, ISB package, plus chrome wheels, running boards, cargo compartment trim with wood slats, and auxiliary gauge package.
The truck has 9-month-old Continental tires with approximately 6000 miles on them. Several of Mike's upgrades have been made to the truck.
This SSR has been very well maintained throughout its life.
The current mileage is 72149. The mileage will be under 75,000 when the winning raffle ticket is drawn in Branson at the Rally.
We will be selling a total of 300 tickets at $100 each, initially opening the raffle ticket purchase for SSR Fanatic members only. If 250 tickets have been sold by September 1, 2019, we will continue the raffle for SSR Fanatic members only. If 250 tickets have not been sold by this date, we will continue the availability of ticket purchase to members AND open the raffle ticket purchase for non-members. We hope the 250 goals can be reached by September 1, 2019, so the winner can be guaranteed to be a member of the SSR Fanatic family.
The winner will be given a Bill of Sale of $14,000 value. The winner is responsible for sales tax and licensing in his or her state, as well as transportation of the truck to his or her home.
The winner is not required to be present to win. The drawing will be October 16, 2019, at the International Rally Banquet in Branson, Missouri.
To purchase tickets for this really nice SSR visit Debbie on the link below
https://www.ssrfanatic.com/forum/f24/2019-branson-rally-ssr-raffle-248645/
CHATEAU ON THE LAKE
The CHATEAU is one of the nicest hotels in Branson and sells out fast.
Reservations – 888.333.5253 (ask for SSRFanatic rate)
Our room rate is $119 plus tax– upgrades available for suites or full lake view
If you would like to come early or stay later the hotel will honor our rate.
Check out
https://www.chateauonthelake.com/
for more pictures and information
(You must reserve a refrigerator if you need your Rx refrigerated)
We will post event information as soon as we get it scheduled so you can plan your free time. You can check out Branson by going to
https://www.explorebranson.com/
We will get SSRFanatic Group discounts so don't buy tickets or passes before you arrive at the Rally.
Copy of activities flyer is in Post 3below.
We will post schedule and things to do on your free time beginning first part of 2019 this is when Branson sets their schedule for the year
NOTICE for RALLY
Post 2 Attendees List
Post 3 Registration Form
Post 3 Activities Form
Post 4 Schedule
Post 10 Room Rate
Tune-up sign up thread in National Events - Link
https://www.ssrfanatic.com/forum/f24/tuning-session-2019-international-rally-branson-mo-250537/
Tech Session sign-up thread in National Events ( Limited seating ) - Link
https://www.ssrfanatic.com/forum/f24/tech-session-2019-branson-international-rally-251401/