A new member recently posted a thread questioning the role the American Sunroof Corporation (ASC) played in the developement of the SSR. This prompted me to get off my butt and dive head first into something I have been meaning to do for ages.
However, I knew if I didn't get this started, like so many other things I have good intention of doing, it would never get done. So hopefully, with input from others with knowledge of the time and events, this can become a thread that I could comfortably consider moving into the Heritage Center.
I am not sure how many realize what a large part ASC played in the building of the SSR.
Most will immediately think of what is possibly the most appealing aspect of the SSR, and how ASC was largely responsible for the design and development of the SSR's amazing roof, the first vertically stacking convertible hardtop.
But how much more did the ASC group do?
Rick Wagoner had made surprising commitments to commence production of the SSR within a very short time frame which put a lot of pressure on the GM engineers etal to make it happen.
The Lansing Craft Centre (LCC) was not yet ready for SSR production. The first 5 of the Signature Series SSRs were virtually hand built entirely at the ASC plant in Oak Park MI.
GM assigned Ted Robertson, Ed Ivey and Mickey Sabol to oversee the engineering and development at ASC Oak Park.
ASC opened another facility in Lansing, strategically located much closer to the Lansing Craft Centre, important because there would seem to have been a steady stream of body components being transported back and forth between them.
One of the pictures shows a storage rack with "Return to ASC" on it. These racks were designed to hold body parts of all shapes and sizes.
There were about 7000 total welds on an SSR - ASC performed an estimated 3000 of those (approximately 42%).
When viewing the pictures it will become obvious where many of these welds were performed on the body.
Debbie Cook (HotRodGirl) was able to obtain a large number of pictures taken at the ASC facility during the SSR build and graciously shared them with us.
The pictures make a statement themselves and uncover a good part of the story, but in some ways raise questions as well.
The paint process comes to mind – just one issue that will require adjustments in this thread.
I think I have the answer to part of this which I will share further on.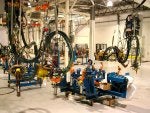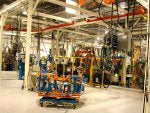 1. The ASC facility in Lansing MI
2. Debbie Cook and part of the ASC Group
3. Inside the ASC
4. & 5 Various work stations throughout the plant