ASC TIMELINE
American Sunroof Corporation
1963
- American Sunroof Corp. is founded by Heinz C Prechter.
Prechter is awarded the west coast distributorship for Golde Sunroofs
- ASC begins sunroof installations while partnered with Forster Autobody in San Francisco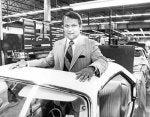 1965
- January: ASC opens another outlet in North Hollywood in a rented garage behind "Barris Kustom City" with George Barris as landlord.
Prechter convinced car dealers to let him cut holes in the tops of their new shiny vehicles - one at a time - selling by day, installing them by night.
- A number of Barris customs as well as stars and dignitaries cars have ASC sunroofs installed.
- Some stars include Sinatra, Garner & McQueen. One VIP was then President Lyndon Johnson.
The Barris location is soon outgrown and ASC moves to Paramount, California.
1966
- Brother, 19 yr old Christian Prechter emigrates from Germany to oversee West Coast operations.
1967
- Ford Motor Co approaches George Barris to install sunroofs in the Mercury Marauder but Barris recommends ASC for the project.
- Prechter opens an outlet in Michigan and soon has a contract for 200 sunroof installations on the Mercury Cougar.
- In 1967-68 ASC also installed sun roofs in Ford thunderbirds.
1968
- ASC installs sunroofs in 431 of the 629 limited production Dan Gurney Cougar XR7-G's.
An unknown number of sunroofs were installed in regular production Cougar XR7's as well.
- It is undocumented but supposedly a number of Mustangs had ASC roofs installed too.
- As the Michigan business flourishes, Christian Prechter assumes full control of the west coast operations of ASC.
1970
- Sunroof kits and simulated convertible tops are introduced.
By the late 70's sunroofs became so popular most car manufacturers incorporated their installation into the assembly line using kits supplied by ASC.
- All Detroit operations are combined in the Southgate Plant.
- Also new was ASC Custom Craft – a new subsidiary specializing in aftermarket styling parts for Cadillacs and the like that turned them into what was commonly referred to as "pimpmobiles".
They produce a complete line of luxury custom parts to personalize the individual car.
Available products included custom grills, 'Superfly' headlight trim, custom hood ornaments, padded half landau roofs, landau irons, fender skirts, rear deck lids with faux spare tire hump, rear deck trim, color keyed wheel covers, oval or formal continental windows, a dash-mounted 3" television and special interior trim.
Custom Craft's products were marketed directly to Cadillac dealers, whereby desired components could be ordered by the dealers and installed on site.
Custom Craft also offered a full installation program whereby the entire customization process could be completed in their Southgate workshop.
1972
- ASC supplies the automotive industries first modular sunroof kit for OEM factory installation.
1973
- ASC creates the first glass panel sunroof
1974
- Plants are now open in California, Michigan and Georgia with sales of $7 million.
- ASC, in conjunction with Ford Motor Company, develops the moon roof used on the Lincoln Mark IV and Ford Thunderbird.
1976
- ASC builds 32 commemorative Ford Thunderbirds that incorporate a simulated spare tire in the deck lid and a padded landau roof equipped with a moon roof.
- Although undocumented, some believe ASC may have provided the Hurst T-Tops for the 1975 Olds 442.
- The first documented ASC tinted and tempered smoked glass T-Top panels appeared on the 1976 Mustang II.
ASC engineered T-Tops could be factory ordered directly from FoMoCo. The ASC moon roof was also an available option.
- ASC T-Tops also appear on the Chrysler Cordoba, Dodge Magnum and Mirada.
- ASC revives the faux convertible design originally introduced as the faux cabriolet in the 1920's.
- In a joint effort with Oldsmobile, ASC develops the Toronado XSR, the first car built with a power operated T-top. This design is to replace the discontinued convertible top for 1977.
The project is scrapped when it is determined the roofs are too complicated to build in large numbers.
*The glass tops slide under the center bar from the sides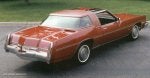 - ASC tries to sell the idea to Cadillac to no avail although two are built with the option. One is a 1978 Cadillac Biarritz built for Heinz Prechter.
The 2 Cadillacs and the lone Toronado XSR all survive and are in private collections.
**One of the Cadillacs (El Deora) Sold @ Mecum Kissimmee 1/2017 Lot S85.1 - See Link at bottom of this post
1979
- Following the Iranian hostage crisis of 1979 there is a sharp decline in auto sales. This wreaks havoc with ASC and by 1981 Prechter is forced to cut his workforce from 2,300 to 500 to keep from going under.
He subsequently turns an eye toward international sales - also seeks other areas to invest in, including real estate, newspaper publishing, and a savings and loan bank.
- Prechter realized the new robotic assembly lines were not set up to deal with the intricacies of installing convertible tops. The auto industry had stopped making convertibles in 1976 and he knew if he could find a manufacturer to support the idea of another production convertible, ASC would have the production as well as the installation contract to bolster the flagging sales income
1981
- Buick commissions ASC to create two Union 76 badged Buick Regal NASCAR Pace Cars.
Although ASC built these two they did not build the production versions which were built by Cars & Concepts of Auburn, Michigan.
1982
- Buick debuts the ASC built 1982 Buick Riviera convertible. This is part of a resurgence of interest in the open body style that had been discontinued industry-wide due to dwindling sales.
Production takes place at the ASC plant in Linden New Jersey and continues through 1985.
- American Sunroof Company is re-named ASC Inc.
1983
- ASC is commissioned by Saab to build a four seater convertible. It debuts in 1985 but ASC's involvement is limited to the design and engineering of the convertible roof only. It was built in Europe.
- An ASC built Mustang convertible proved so popular that Ford took over, building their own the following year
1984
- The ASC/McLaren Capri was built through 1986, mostly with convertibles but some with the ASC T-Top. ASC also does some cosmetic alterations to the body.
- The ASC built Cadillac Eldorado convertible is introduced but both the Eldorado & Buick Riviera convertibles are discontinued in 1986.
- ASC opens a plant in Long Beach CA (Rancho Dominquez) to convert Toyota Celica coupes to convertibles. The Celica's were built 1984 through 1999, although skipping 1986, '90 and '96.
- Through 1987 ASC builds about 500 Chrysler K-car limousines, based on the LeBaron frame.
1985
- The first Toyota Celica Convertibles are built.
- 1985 – 87 ASC builds convertible versions of the Renault Alliance for American Motors.
- ASC's first in-house concept car, the Vision 1 is introduced.
1986
- ASC supplies convertible tops for the Chevrolet Corvette and continues to do so through 1996.
In 1988 the Corvette Convertible is named one of the Ten Best Cars of the Year by Road & Track magazine
1987
- The ASC/McLaren Mustang convertible is introduced - built through 1989.
- ASC buys truck trim manufacturer Aeromotive Systems Co.
- ASC builds the Firebird Suntour Concept for Pontiac – a distinct feature of the silver car was the windshield flowing into the roof with no windshield header.
- The first Firebird and Camaro convertibles are built – the Camaro until 2000 and the Firebird until 2002.
- ASC, again teamed with McLaren to build the 547 - 1987 Buick GNX's (world's fastest car 0-60 mph). It was powered by a turbocharged 6 cylinder developed by McLaren.
1988
- The ASC/McLaren Pontiac supercar, the Turbo Grand Prix was developed – but on a different platform, the new GM w-body FWD, whereas the GNX was built on the g-body RWD.
- ASC establishes German subsidiary Prechter GmbH in order to begin working with German carmaker Porsche to build 944 Porsche Cabrio convertibles at a newly built plant in Heilbron, W Germany.
The company also buys a small German coach making firm which is renamed ASC/Weinsberg.
- ASC now expects to perform 3,500 to 4,000 conversions per year
- Other acquisitions are Pioneer Engineering and Manufacturing Co and sister company Troy Design Group. These auto design and engineering firms expand ASC's specialty vehicle manufacturing capabilities significantly.
Because ASC has labor costs as much as 20% below those of the American Big 3 automakers it is able to offer a viable alternative for production of low-volume specialty vehicles
- ASC opens a plant in Seoul Korea to design and produce OE and aftermarket sunroofs.
1989
- ASC begins working with Dodge to build the first production convertible pickup truck, the Dakota.
- ASC also contracts with SEAT, a Spanish automaker owned by Volkswagen, to build a convertible version of its Ibiza model based on the VW Golf.
1990
- ASC announces plans to partner with Modern Engineering of Warren, Michigan, to design and build specialty vehicles.
- The Buick Reatta debuts the convertible version, largely built by hand at the Michigan Craft Center in Lansing by ASC – hardtop Reatta's had been built by GM since 1998.
- ASC produces the Dodge Shadow convertibles until 1993
- The Vision II Concept is built
- The first single touch auto-close logic sunroof is developed
- ASC pioneers composite technology for the Corvette hardtop
- ASC builds a number of Corvette show vehicles, one example being the 1990 Corvette ZR1 convertible.
1992
- ASC has grown to employ almost 3,000 worldwide and is operating plants around North America, in S. Korea and Germany with revenues of an estimated $400 million.
Construction of a new 115,000 square foot plant is begun in Columbus, Ohio to house all of the firm's sunroof production, transferring work from sites in Gibraltar, Michigan, and Youngshon, Korea.
- ASC has a new contract to build Honda Accord sunroofs. Much of the Columbus space is dedicated to this work, along with putting sunroofs in several Chrysler models.
- From 1992 – 95 ASC supplies Range Rover with tops for the tiny 1st generation Rover Metro
- ASC builds the Nissan 240 SX convertibles through 1994, 8320 units.
- This leads to the contract for the 1993 – 1996 Nissan 300 ZX convertibles
1993
- ASC announces an agreement with GM to produce convertibles for the Chevrolet Cavalier and Pontiac Sunbird (the J-cars). The 50/50 joint venture is later called GENASYS.
- ASC and Freightliner introduce the FLD 170 sleeper cab
- The Columbus OH plant begins production and supply of the Honda Accord sunroofs
1995
- Production of the J-car convertibles commences at the Reatta Craft Centre in Lansing Michigan.
- From 1995 – 1997 ASC builds 1034 Mitsubishi 3000 GT Spider convertibles – a hard top that lowered into the trunk
1996
- The ASC plant in Columbus OH supplies both soft and hard tops for 250000 BMW Z3's from 1996 to 2003.
1997
- Prechter Holdings becomes the parent company of ASC Inc. The convertible & sunroof divisions are combined and become American Sunroof Co
- Two new joint ventures are formed but ASC has a major setback when it loses the Chrysler contract for the Cirrus/Stratus models to Webasto Sunroofs Inc.
- ASC's Aeromotive Services builds the Lexus RX 300 SUV which debuts at 1997 Chicago Auto Show
1998
- ASC opens a new facility in Warren MI for vehicle design and engineering.
- The first OE mobile entertainment system is introduced for the Olds Silhouette Premiere
- From 1998 – 2002 ASC turns stock Firebirds into the Trans Am Ram Air WS6's
1999
- The Buick Cielo Concept is built. It showcases the ASC sliding roof panel technology.
- The ASC built Chevrolet Triax concept is unveiled at the October 1999 Tokyo Auto Show
- The Cadillac Evoq showcar, with a retractable hardtop, is developed and eventually serves as the basis for the Cadillac XLR.
- ASC opens in Bloomington IL to produce the convertible tops for the 2000 Mitsubishi Eclipse
- ASC opens in Kitchener Ontario, Canada for the production of the Toyota Solara convertibles
2000
- The final assembly of the limited production Cadillac Eldorado convertible is moved to the Lansing Craft Centre (formerly the Reatta Craft Centre) and continues through 2002.
- ASC develops the Buick Lacrosse prototype
- ASC opens an advanced convertible design and engineering studio in Munich, Bavaria
- A new subsidiary, ASC Vehicle Technologies, builds a plant in Oak Hills to manufacture short runs of cars.
This plant would become the site where the prototypes, EX VINs and first 5 Signature Series SSR's would be built.
2001
- A joint venture is formed with Inalfa Industries for sunroof development and becomes the second largest maker of aftermarket sunroofs in the world.
The company produces convertible systems for the Toyota Solara, Mitsubishi Stage 1 Eclipse, Chevy Camaro, Pontiac Firebird, and BMW Z3
- ASC Holdings creates a partnership with Kojaian Holdings named ASC Exterior Technologies.
- ASC Exterior Technologies takes over a bankrupt East Tawas MI automotive supplier, JPE Inc.
- ASC founder Heinz Prechter dies at age 59
2002
- Prior to his death, Heinz Prechter had decided to divest his interest in the Sunroof division – but the sale was not concluded until later. ASC sells their interest to partner Inalfa Industries
- American Sunroof is officially renamed American Specialty Cars as it is no longer associated with the sunroof division.
- American Specialty Cars (ASC) is sold to Questor Management Co. LLC. Paul Wilbur is named CEO
- As the Cadillac Eldorado convertible project comes to a close, the Lansing Craft Center is prepared for the manufacture of the upcoming Chevy SSR
- SEMA 2002 – ASC displays several prototypes: Chrysler PT Cruiser Big Sky, Saturn ION QC/T quad coupe, 5 Pontiacs – a Sunfire GXP, Grand AM GXP, Vibe GXP, Bonneville GXP and the Grand Prix GXP.
- SEMA 2003 – ASC exhibited the Dodge Ram High Output 1500 Sportside – a Hi Per pickup.
2003
- The Chevy SSR – Super Sport Roadster production begins. ASC and GM have partnered to build the world's first retractable hardtop pickup.
- The SSR's body and roof are assembled at the ASC Southgate Plant and shipped to the LCC where the completed chassis is ready for the vehicle build completion.
- The SSR wins a 2003 Chrysler Group Gold Award and receives another Gold Award in the 2004 Industrial Design Excellence Award competition.
- October 2003 - ASC enters into a joint venture with California based SoCal Customs to build a custom "West Coast" SSR. Production is short-lived and limited to just four custom vehicles.
- The SSR is built from mid March 2003 through March 17, 2006 with total production of 24,180 units.
2004
- June 2004, in partnership with H&H Automotive, ASC produces bodies as well as completed vehicles in the form of 1932 Dearborn Deuce Convertibles with a retractable soft top.
- ASC is also involved in the development of the latest GM minivans – Saturn's L Series, Pontiac Sunfire H.O. and Pontiac Vibe GTR.
- Heinz Prechter is elected to the Automotive Hall of Fame posthumously
2005
- ASC Huntington Beach produced 2 Suzuki Grand Vitara based showcars, debuting at 2005 SEMA in Las Vegas and 2006 NAIAS in Detroit. They are the Suzuki Wave and the Suzuki Dune
- Another ASC showcar is developed – the GTO Stinger
- ASC and McLaren team for a third time with the release of the 2006 ASC Diamondback Viper showcar.
The SRT10 based Viper is built to showcase the OmniCarbon composite (introduced on the SSR Diamondback) as well as the McLaren Performance Technologies.
- July 13, 2005 ASC celebrates the production of their 1 millionth convertible
2006
- March 17, 2006 the Last Chevy SSR leaves the Lansing Craft Center, spelling the end of the ASC/GM collaborations and unfortunately the eventual demise of the ASC
2007
-May 4, 2007 ASC files for bankruptcy.
2008
Demmer Corporation (builder of military vehicles) takes residence in the former ASC Southgate Building at 16325 Felton Road, Lansing, Michigan.
ASC Company Titles
ASC, American Sunroof Corporation, ASC Custom Craft, Automobile Specialty Corporation, American Sunroof Manufacturing Co, Aeromotive Systems Co, ASC Holdings, American Sunroof Corporation West Coast, American Specialty Cars, ASC/McLaren Specialty Products, Southgate, Michigan
ASC Locations
At one time or another ASC, was headquartered in Southgate, Michigan and operated plants or had design/engineering studios in:
United States
- MI - Detroit, Lansing, Southgate, Gibraltar, Owosso, Oak Park, Warren & East Tawas
- OH - Columbus & Lordstown
- CA - Rancho Dominquez (Long Beach) & Huntington Beach
- KY - Bowling Green
- NJ - Linden
- IL - Bloomington
- SC - Spartanburg
- GA - Atlanta
International
- GERMANY - Munich, Heilbronn and Weinsberg
- CANADA - Kitchener, Ontario
- S. KOREA - Youngshon
- SPAIN - Martorell
**To view pictures of many of the vehicles referred to in this post, please visit:
http://www.ssrfanatic.com/forum/f87/asc-timeline-169489/