Due to the Corona-virus pandemic most of us are now pretty much confined to our homes these days. So I thought perhaps this might be a good time for all of us to perhaps start digging through some of our older SSR history files on our computers and or DVDs and share some of our collected history images/ files.
*All kinds of random different photos I am finding and posting.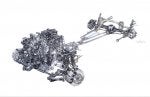 Rick Wagoner driving a pilot 2003 SSR at the Woodward Dream Cruise back in 2003 as a bystander shouts out
"...Where is mine?"