1GCES14H46B117632
:yellow:
#3 of 3 Callaway Supercharged SSRs built.


Amend:

3.29.2012 - I spoke with Callaway and found out there were four Callaway SSR's. They are separated into two divisions, the MY2003 set alone and the 3 MY2005's as a group of 3. The Callaway Letters of Authenticity state # of 3 regarding these.
The very first was a MY2003 naturally aspirated :ssr with a 550 Sport 7L engine installed.
This is owned by BigJohn in CT who has been very helpful providing information enabling me to sort this out as well as I have to date.
:ssr MY2003 #1 of 1 Callaway SSR 550 Sport - M32 - CT
:blur: MY2005 #1 of 3 Callaway Supercharged - M32 - FL
:yellow: MY2005 #2 of 3 Callaway Supercharged - M10 - OH
:black: MY2005 #3 of 3 Callaway Supercharged - M32 - CA (now in OH)
:silver: MY2006 #1 of 1 Callaway Supercharged - M10 - NY

I am trying to gain more information on them by having Joanne @ Callaway forward a letter from me to the owners.




SEE Post #10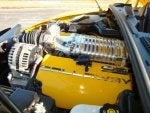 Lousy pictures unfortunately.
Chevrolet : SSR Chevrolet : SSR | eBay
Buy it Now is $48k
This is a slightly amended version of the verbiage in the listing.

From the ebay listing:
This is a fully loaded 2005 Callaway SSR. Callaway built three SSR trucks.
This is the last Callaway truck built #3 of 3. This SSR is optioned with:
1SB - Preferred equipment group heated seats and 6 CD player
14P -Chrome Wheels
VXM - Body colored accent package comes with:
BVF - Body Color running boards (not installed but come with the truck)
ERK - Cargo compartment trim w/ wood
M10 - 6-speed manual transmission
C44 - Cockpit windbreak
R6K - Special paint
VR4 - Towing package w/ hitch insert
CTD - Cargo netting
BVF - Customized floor mats
Front license plate bracket.
This is a one owner SSR that has been stored in a temperature controlled facility for its entire life.
The Callaway package adds:
- Special Callaway badging on the rear of the truck
- Fully polished supercharger and special Callaway fuel rail covers
This SSR is one that can be driven everyday, but can also give a Corvette a run for its money.
Questions please let me know. (614) 579-2506 8am - 10pm EST
**CarFax was clean with no service history noted.

This one is different from the other one that I am aware of. On the plus side this one has the polished supercharger.
The :blur: has Callaway side pipes, custom wheels, large Callaway tail gate emblem which is pretty cool.
Callaway puts different packages together and it would seem the :blur: might have been a step up.